Even if a loved one is willing, tension and stress may accompany the transition into assisted living. Other circumstances, like your loved one developing dementia, could further complicate the process.
Looking for a senior community that offers programs and activities to enrich your loved one's life is important. But other than that, things like taking tours of potential communities, making a plan, and including your senior loved one in the process are all things that may ease the transition.
You can expect a brief overview of assisted living and its ideal candidates below. We'll also go over 5 helpful tips for a smooth transition.
What Is Assisted Living?
Assisted living shares some similarities with respite care. A major difference between them is that respite care is meant to be short-term. In contrast, assisted living is typically a long-term living situation.
When an adult reaches a point in their life when they cannot safely take care of themselves, they have a few options. A family member or close friend could step up and assist them. This could be a great option if the seniors can still do some things alone.
Once the older adult needs round-the-clock care, a loved one as the caregiver makes less sense. An assisted living community may be the best option in a situation like this. Not only does a retirement community typically have staff to provide in-depth care, but they also often provide opportunities for socialization and other benefits.
Who Is a Candidate for Assisted Living?
There isn't really any legislation around who can live in an assisted living community. Each organization may have slightly different criteria. Some common criteria for these communities include:
Unable to safely perform daily activities, which include things like taking medication, cooking, cleaning, or bathing
Limited mobility—but still mobile
No serious medical issues that require specialized care
Many communities have minimum ages
Is Assisted Living the Only Option?
There isn't a single type of senior community because everyone has different needs. There are independent living communities for seniors who can care for themselves without issue.
And for specialized cognitive or memory needs, some communities offer memory care. Short-term accommodations and care called respite care also exist to give caregivers a break.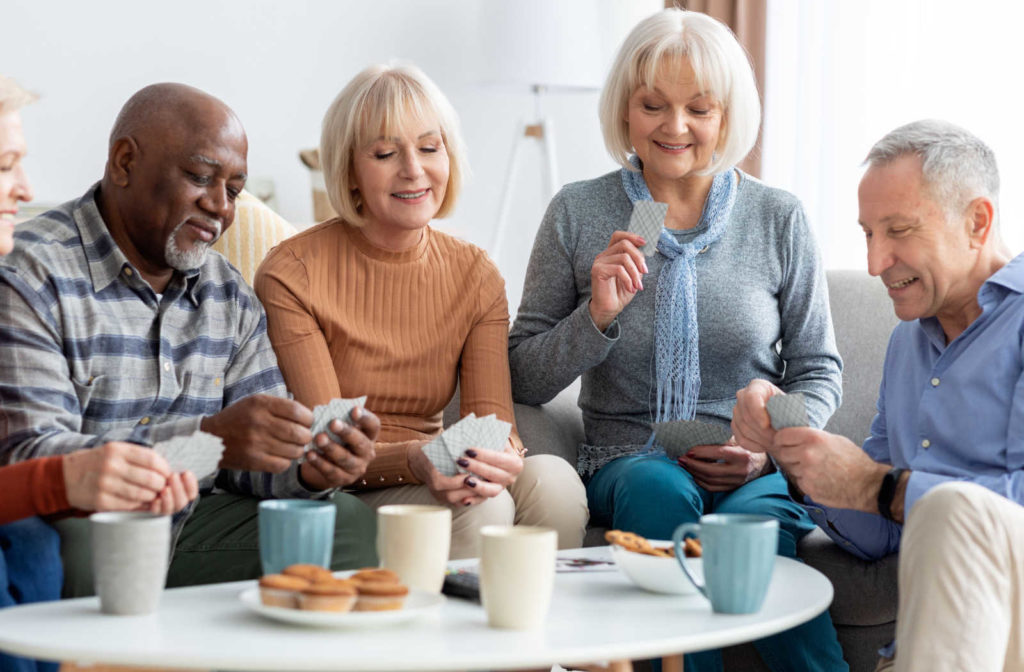 Tips for Easing the Transition
Each person's situation is a little bit different, and they may need different types of help to make the transition go well. Here are 5 tips to point you in the right direction.
Maintain Patience
Any major life transition may come with its own set of frustrations. It's important to remain patient. You may be your loved one's only source of calm and patience through the process. No one wins if you or your loved one becomes overwhelmed and frustrated.
Include Your Loved One in the Process
No matter what you think is best for your loved one, the decision still ultimately lies with them. There may be some exceptions to this in a case where the senior cannot make any decisions for themself. Assisted living is probably not the best type of community in this situation.
Suppose your loved one cannot make any decisions by themselves. In that case, it's still important to include them as much as possible and make them feel like they have a voice in the situation.
View Multiple Options
There are typically multiple community options, depending on the town's size. If there is, don't simply settle on the first one. Arrange tours of multiple communities with your loved one. If the transition is to a new town, exploring the town itself may also be beneficial.
Plan Ahead
Transitioning from living at home or in an independent community into assisted living is not usually a quick process. It's important to plan ahead for a smooth move. Consider things like item storage, selling unwanted items, moving companies, or selling the previous home. With a plan in place, these things typically go much smoother.
Remember, It Takes Time
It's important to remember that there may be setbacks. The transition period takes time. Even once your loved one is moved into their new home and community, it could take additional time for them to settle in and feel at home. This is where staying calm and patient goes a long way to helping.
Plan Your Future With Merryvale
Deciding where to spend retirement isn't a decision that you or your senior loved ones should take lightly. If you're looking at assisted living communities in Oxford, reach out to us today at Merryvale in Oxford. Our compassionate staff is happy to answer your questions. And if you're interested, we can book you a community tour, so you can see it all for yourself.