When you choose to move a loved one into a memory care community, you're providing them with the daily care and support they need. However, the transition into this lifestyle may be difficult or stressful. If you're making this move, how can it go as smoothly as possible?
Continue reading to learn more about memory care and how to help transition someone with Alzheimer's into their new home.
What Is Memory Care?
Alzheimer's disease is a form of dementia that can significantly impact someone's life, eventually taking away their ability to live independently. This disease affects more than your loved one's memory—it impacts their cognitive function, including how they think, behave, and feel.
Dementia changes someone's brain function, slowly affecting their ability to care for themselves. As this disease progresses, your loved one may struggle to live alone, or it may even be dangerous.
When cognitive decline affects your loved one's ability to live independently or you can no longer care for them yourself, memory care is a way to get them the daily support they need. This lifestyle provides safety and support while offering residents as much freedom as they want. With services and amenities available for your loved one, they can enjoy a happy, fulfilling life.
What Does Memory Care Provide?
Memory care provides daily support for residents to make their lives easier. Every member of a memory care community has different needs, so they receive a personalized care plan. Someone's needs can naturally change with time, and these plans can be modified if necessary, offering more support.
Your loved one receives support with the activities of daily living (ADLs), the everyday tasks people complete without thinking about them. These tasks can become harder with age, and many older adults with Alzheimer's may struggle to complete them.
Support staff in a memory care community help residents with:
Ambulating: Moving from one position to another & walking independently
Feeding: Feeding oneself
Dressing: Selecting & putting on appropriate clothing
Personal hygiene: Bathing, grooming, & maintaining dental, nail, & hair hygiene independently
Continence: Controlling bladder & bowel function
Toileting: Getting to & from the toilet & using it appropriately
Support with ADLs is a part of daily care in a memory care community, helping improve the quality of life for residents. Each person's needs are different, so some residents may not need help with every aspect of their day. Your loved one lives as independently as possible in memory care, with support available whenever needed.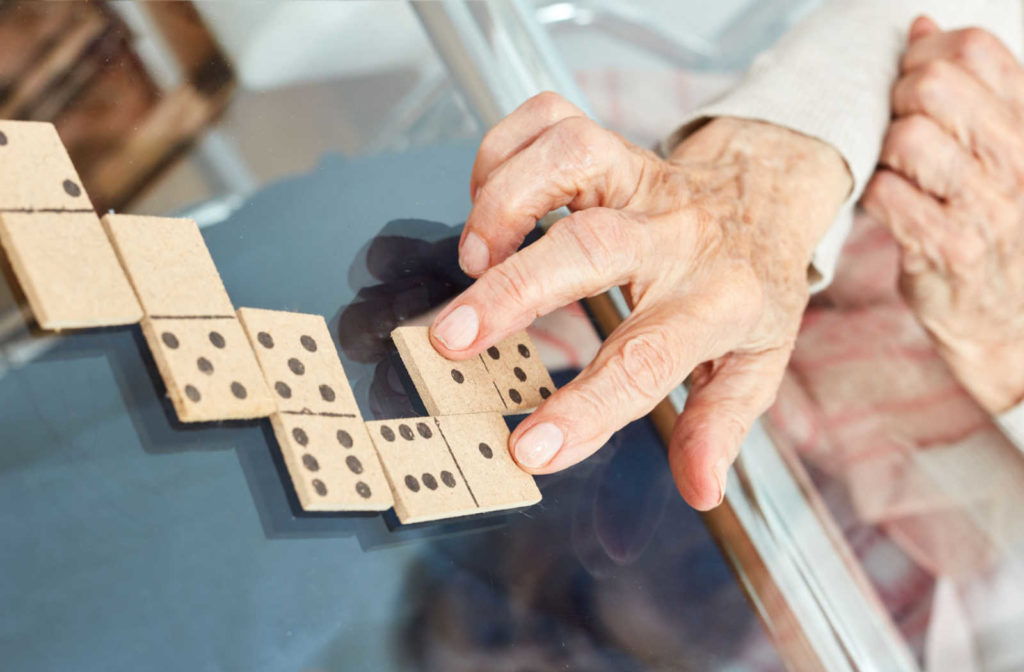 When Does Your Loved One Need Memory Care?
Alzheimer's worsens with time, so it may take years for your loved one to need memory care services. They may not notice any changes at first or assume memory problems are general forgetfulness. With time, you and your family will begin to see symptoms that aren't normal with natural aging.
You may notice several signs that your loved one needs additional care and support, but always visit a doctor for a diagnosis. They can assess your loved one's cognitive function and recommend their next steps.
Visit your doctor if you notice any of the following changes in your loved one:
Lack of personal hygiene
Difficulty with their daily routine
Wandering
Shakiness & fall hazards
Mistakes with medications or doctor's appointments
Signs of depression or social isolation
Personality or behavioral changes
Severe memory loss
Transitioning Someone With Alzheimer's Into Memory Care: How It Works & What to Expect
If it's time for your loved one to transition into a more supportive environment, the moving experience can be stressful for them and yourself. There are many things to consider, from the move to financing their stay in a memory care community.
When making this transition, thinking about a few things can make this process go as smoothly as possible.
Consider the living space: Ensure your loved one has enough room in their new home & that there are areas to spend quality time.
Think about the finances: How will this move impact your and your loved one's financial situation? Many senior communities offer financial aid or advice.
Limit the number of moves: Moving can be stressful for anyone, but even more so for someone with Alzheimer's. Try & limit the number of moves to as few as possible to lower potential stress.
Be empathetic: Understand that this transition can be stressful & disorienting for your loved one. They may not realize they are moving or struggle with making necessary choices.
Offer choices: Being forced into a move can be more distressing than if you're involved with the process. Let your loved one make certain decisions (to the best of their abilities) & be open & honest about the moving process.
What to Expect During the Move
It's best to plan the move for your loved one when they're functioning at their best. Plan everything for the move beforehand so the transition is smooth and simple. Keep an optimistic attitude toward the move and remind your loved one about the positives of this new lifestyle.
It may take a little while for your loved one to adjust, but once they do, they'll enjoy a new community where their needs are taken care of.
Offer Your Loved One the Care They Deserve
Transitioning to memory care can be stressful, but the benefits are worth it. You can make this process easier by taking a detailed, planned approach and keeping your loved one involved. You can always speak with a representative from the community for advice or to answer any questions.
Contact us if you're interested in memory care for your loved one.